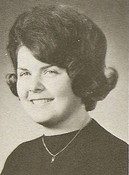 From Lori Neuman (recieved 8-6-2013):
My mom Marsha Wilson, class of '65 passed away on 8/13/98
She was born 4/27/47. Marsha had two children, Lori and Raymond. They both attended Berea High School, Raymond J. Waldeck graduated with the Class of '86 and Lori graduated in 1988 from Bay Village. Marsha has 7 grandchildren. When she passed away she was living in Roaming Shores, Ohio.

If you have any information, memories, or thoughts to share, please post a comment.