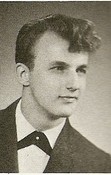 Name: Ferrell, James G.
Date: Jun 21 1971
Source: Cleveland Press; Cleveland Necrology File, Reel #108.
Notes: Ferrell. James G. Ferrell, age 24, beloved son of James C. and Helen, brother of Suzanne, passed away Saturday. Funeral services Tuesday, June 22 at 10:00 A.M. of Boker Funeral Home, Berea, where friends may call Monday 7-9 P.M.

If you have any information, memories, or thoughts to share, please post a comment.
Jim passed away in June of 1971. Jim was a veteran having served in Viet Nam.