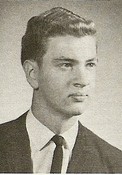 Name: Goldenbogen, Lee R.
Date: Nov 26 1972
Source: Plain Dealer; Cleveland Necrology File, Reel #112.
Notes: Goldenbogen. Lee R. Goldenbogen, age 25, beloved son of Berry J. Doue and Paul R. Goldenbogen, and step-son of Carl Bauer, nephew of Vorice Bett, passed away Thursday. Memorial contributions to St. Andrew Presbyterian Church, Berea, would be appreciated. Funeral service Monday, Nov. 27, at 1 p.m. at Baker Funeral Home, Berea. Interment Sunset Memorial Park, Visiting Sunday 2 To 4 And 7 To 9 P.M.

Lee R Goldenbogen died November 23, 1972.
If you have any information, memories, or thoughts to share, please post a comment.