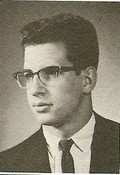 If you have any information, memories, or thoughts to share, please post a comment.
The following information is on the Vietnam Memorial in D.C.
DANIEL LOUIS PUCCI
CPL - E4 - Marine Corps - Regular

Length of service 1 years
His tour began on Aug 20, 1968
Casualty was on Jun 2, 1969
In QUANG TRI, SOUTH VIETNAM
Hostile, died of wounds, GROUND CASUALTY
ARTILLERY, ROCKET, or MORTAR
Body was recovered
http://www.thewall-usa.com/info.asp?recid=41846
Panel #17 at Ohio Veteran Memorial Park Clinton Ohio
---
Name: Pucci, Jpl, Daniel L.
Date: Jun 12 1969
Source: Cleveland Press; Cleveland Necrology File, Reel #147.
Notes: Pucci. Jpl. Daniel L. Puccl, U.S.M.C., June 2, in Viet Nam, beloved son of Alex and Beatrice, brother of Alex B. Jr., Edward S., Justine and Joseph, grandson of Mrs. Biagio Juliano. Family residence, 243 Stanmary Dr., Berea, O. Services at St. Marys Church, Berea, O., Friday, June 13, at 9:30 a.m. Friends may call From 2-4 And 7-9 P.M. Thursday at Baker Funeral Home, Berea. Family suggests contribution to St. Marys Church Athletic Field.
---
To acknowledge Dan Pucci's death in Viet Nam on June 2, 1969, Jim Terwood, with the help of Rich Starn, Sparky Adams, and Terry O'Neill have assembled these memories in his honor.