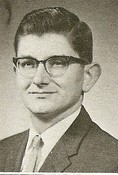 Dwight A. Leedy (April 7, 1947 - February 23, 2013)
Dwight A. Leedy, 65, of Chillicothe, died at 4:00am Saturday, February 23, 2013, in Heartland of Chillicothe.
He was born April 7, 1947, in Greenfield, OH, to the late William N. and Emily L. (Foster) Leedy.
Dwight earned his bachelor's degree from Baldwin Wallace and later received his master's from the University of Vermont. He worked as a computer operator. Dwight also enjoyed the Boys Scouts of America, where he earned his Eagle Scout, God and Country Award and the National Conservation Award.
Graveside services will be held at 10am Tuesday, February 26, in Grandview Cemetery under the direction of Haller Funeral Home. At his request, calling hours will not be observed.
If you have any information, memories, or thoughts to share, please post a comment.