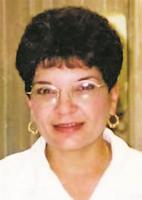 Judith F. Dunbrack, 72, of Arlington Ohio, passed away Thursday, February 28, 2019. She was born in Berea on February 22, 1947 to the late Robert and Phillippa (Costanzo) Leek.
On June 11, 1956, Judy married Lawrence "Pat" Dunbrack and he survives along with three children, Patrick (Stephanie) Dunbrack, Shannon (Mark) Goulding and Jennifer (Don) Rossman. She is also survived by five grandchildren, Zak, Kait, Morgan, Emma and Ellie.
Judy was a union baker and cake decorator. She could do magic to cakes. She loved to decorate inside and outside for the holidays. Judy loved animals but, most of all, she loved her grandchildren. If you knew Judy, you were lucky. She was a kind, giving and loving person and will be greatly missed.
Visitation will be held from 1 to 4 p.m., Sunday, March 3, 2019 at Crates Funeral Home, Arlington. A funeral service will begin at 4 p.m., Sunday at the funeral home with Pastor Steve Ramsey officiating. A private burial will be held at a later date.
Memorial contributions can be made in memory of Judy to Love-A-Stray or the Hancock County Humane Society.
Online condolences can be expressed to the family by visiting www.cratesfuneralhome.com
http://www.medina-gazette.com/Obituaries/2019/03/02/Judith-F-Dunbrack.html