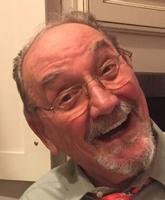 Richard Ward Starn left this world Wednesday, December 16 after a short illness. He was born July 29, 1946 in Berea, Ohio.
Rich enjoyed sharing laughs and life with anyone he encountered; and found the most joy in the simplest details of being a husband, father, grandfather, brother and uncle. Rich is survived by his loving wife of nearly 50 years, Barbarajean, three daughters and eight grandchildren: Heather and Dan Karns and their children: Miller, Asa and Grace; DeAnna Starn and Seth Grossi and their children: Nicolas, Cristian and Luca; Mark and Jennifer Marshall and their children: Cole and Emily; a sister, Joyce Boone; nieces and nephews, and his "dog" Ping.
Rich lived a life led by an ever-present, always growing abiding faith, integrity and deep devotion to family. His actions reflected intention. He enjoyed bike rides and walks around the lake with his wife; washing cars at high school fundraisers; teaching his daughters how to drive; making french toast while listening to his favorite musicians after church on Sundays and spending time with his grandchildren doing things that built relationships - playing the guitar and singing, cheering on the athletes at soccer matches and football and softball games, watching riding lessons, painting dinosaurs, completing building projects, and sharing family history at school programs. Rich earned his private pilot license and loved to fly. He was also an active member of Our Lady Queen of the Americas Parish.
Rich graduated from Berea High School, and was a proud veteran who served in the Navy during the Vietnam War and later earned an Associate Degree in Psychology. Rich held engineering roles in various companies throughout his career but he was most honored to be a part of the tool and die business started by his uncles, Starn Tool and Manufacturing in Meadville, PA. He retired from there.
Rich was preceded in death by his parents Emily and Fred Starn and brother Dennis.
A small service was held for the immediate family. A celebration of life will be held at a later date. In lieu of flowers, Rich's family asks that you seek Jesus and share Him with others through appropriate acts of service. Rich's life was marked by a belief system and intentional choices that reflected his love for the Lord; Truly I tell you, whatever you did for one of the least of these brothers and sisters of mine, you did for me. Matthew 25:40.
Please sign Richard's online guestbook at www.hatheway-tedesco.com.
Arrangements have been entrusted to Dickson Funeral Home and Crematory, 130 N 2nd St., Conneaut Lake, PA 16316, Rocco R. Tedesco III, Supervisor.
Published on December 22, 2020
https://obituaries.meadvilletribune.com/obituary/richard-starn-1081290081