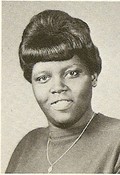 Willis, Lynn Ann
Date: Feb 12 1973
Source: Plain Dealer; Cleveland Necrology File, Reel #167.
Notes: Lynn Ann Willis, beloved daughter of John and Dorothy (nee Hill), sister of Mary Lou and Cathy Ray Willis. Services at First Baptist Church, Berea, Tuesday, Feb. 13 at 1:30 p.m. Friends may call at Baker Funeral Home, Berea, Monday 7-9 P.M.

If you have any information, memories, or thoughts to share, please post a comment.