Dick Clough wants to preserve a pristine ribbon of green along Lake Erie:
2015 People to Watch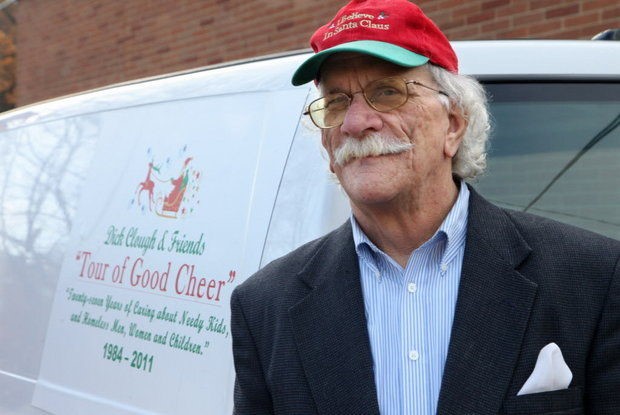 Dick Clough, founder of the annual Tour of Good Cheer at the holidays, has spent 30 years giving away clothes, toys, and other gifts to homeless people, their caretakers, and St. Vincent Charity patients. Clough is also spearheading a grassroots 'Ribbon of Green' effort to preserve green space and public access to Lake Erie, saying, "The lakefront is no place for an edifice complex."(Thomas Ondrey, Plain Dealer file)
By Janet H. Cho, The Plain Dealer
on December 26, 2014 at 12:00 PM, updated December 28, 2014 at 7:35 PM
CLEVELAND, Ohio -- Dick Clough, a Lakewood advertising, marketing and publishing veteran and lifelong Cleveland promoter, says Northeast Ohioans need to stop taking our Great Lake for granted. With developers itching to build hotels and apartments on prime patches of real estate along Lake Erie, he said residents and city officials need to join forces to keep that land green and open to the public.
Clough's answer is the Lakefront Ribbon of Green Coalition, which aims to promote parks and public uses such as bike paths and playgrounds for the remaining undeveloped land between Edgewater Park and the Cuyahoga County/Lake County border. Why not do what Chicago and Toronto have done and push the buildings back and away from the water, he asks.
Although the odds are decidedly stacked against him, Clough is tenacious about the causes he believes in.
In 2004, he and two like-minded Clevelanders, Jerry Hoegner and Ed Stevens, created the group now known as Northeast Ohio Communications Advocates, representing the local advertising, marketing, promotional, publishing and broadcasting industry. NOCA companies employ more than 39,000 people, generate more than $5 billion in annual revenue and billings, and trace their origins from when Cleveland was one of the nation's five largest corporate headquarters cities.
But Clough's proudest legacy is his annual Tour of Good Cheer, for which he collects and delivers warm coats, children's toys and other goodies to more than 1,000 of Cleveland's homeless, needy and vulnerable. In honor of Clough's 30th Tour this year, the City of Cleveland issued a proclamation designating Saturday, Dec. 20, as "Dick Clough Day" in Cleveland.
Q. Why are you a person to watch in 2015?
A. I am always someone to bear watching! Ha Ha. Seriously, the Green Ribbon Coalition is one of several civic initiatives I am pursuing, and am particularly passionate about creating a 'ribbon of green' along the lakefront.
We have always had it wrong in this region (and particularly the city). We should have been building on the bluffs overlooking the lake, and preserving direct access to the lake and water for the people of Cleveland and the region. There is some lakefront development that is of course unavoidable, such as the port and ore dock, wastewater treatment, and maybe the airport, but it's not good policy nor advisable to build out every square foot of lakefront land.
I accept everything that is currently in place, but now going forward let's earmark the remaining undeveloped land for parks and recreation, and connect this future parks land with the existing lakefront parks at Edgewater, Wendy Park, Gordon Park and Nature Preserve.
Q. Why are you spearheading this Lakefront Ribbon of Green Coalition? Won't Lake Erie always be publicly accessible?
A. In my view, the lakefront, and water's edge belong to the people -- everybody -- not just a few condo owners, boaters and industrial interests. And the best way to get the attention of the powers that be is to build a coalition of interest groups, and the public at large to advocate on behalf of the 'green ribbon.'
People are always telling me Cleveland should have a lakefront like Chicago or Toronto. Those two cities have their version of a ribbon of green, and now we need to get busy on ours. The Cleveland lakefront is no place for an edifice complex! Let's not build out every square foot of Cleveland lakefront property.
Q. What's the biggest thing you'd like to see happen in 2015?
A. I would like to see the 'lakefront ribbon of green' emerge as a key element in the civic dialogue in the coming year, and city leadership to begin serious discussions of how best to preserve the remaining undeveloped lakefront parcels for parks and recreation -- de facto embrace of Green Ribbon concept.
Q. How can other people who agree with you support your efforts?
A. Follow progress for the moment at www.clevelandlakefrontconservancy.orgor email directly at Clough1217@aol.com
Q. How will you know when you've accomplished your goal?
A. The goal itself is a 'legacy' proposition. Nothing happens overnight or even in the space of 12 months. Just looking for progressive steps. Getting people talking about the Green Ribbon concept in the halls of government, executive suites and around the dinner table would be a positive development next year, and perhaps modifying the West Harbor plan to incorporate vastly more green space and a public park on the water's edge.
---
Dick Clough spreads Good Cheer around town: My Cleveland
Published: Saturday, November 24, 2012, 8:15 PM
Cleveland Plain Dealer
Dick Clough
CLEVELAND, Ohio -- Clough rhymes with tough, but Dick Clough's a softie. He leads the Tour of Good Cheer, doling out clothes and toys for the holidays.
What's tour day like?
The Saturday before Christmas, I take two Lakefront buses with 60 friends and almost 4,000 pieces of merchandise. We bring Santa Claus: Mark Holan, who was editor of Scene. We take Dennis Devito and his Cats on Holiday band.
We see nine shelters and St. Vincent Charity, about 750 people and their caregivers. All these kids come roaring into the room. Most people are very appreciative, and I really enjoy watching my friends get into giving.
What sort of stuff do you give?
Mistakes. We've given away thousands of pieces of mistakes. These are mis-sized merchandise or the wrong color or the corporate logo's misspelled.
We also get a lot of unclaimed dry cleaning. It's amazing what people never pick up.
What stuff do you need?
We need gently used coats, sweaters, scarves, gloves, sweatshirts, workout pants, stretch pants, dolls. Extra-large clothes. Homeless folks have the worst diets.
How'd you get into the cheer racket?
When I got divorced, I didn't have anything to do for Christmas. So, 28 years ago, I filled my Mustang convertible with plush animals and took them to Charity Hospital. The next year, somebody said, "That sounds like fun. Can I join in? Why don't we do another hospital or two?"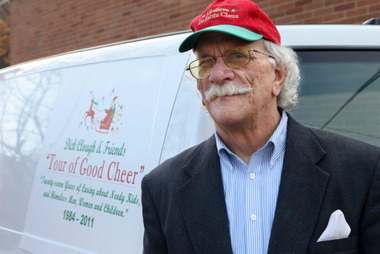 Dick Clough: "We're in a great location between New York and Chicago. It's an easy town to get around in." Thomas Ondrey, The Plain Dealer
What do you do on Christmas?
I'm going to be tired on Christmas. I like to lay low. I visit some friends.
Favorite holiday song?
"I'll Be Home for Christmas," I think, and "What Are You Doing New Year's Eve?" I'd sing that one to myself in Vietnam.
How do you make a living?
I've never had a job, except for Berea council president at age 25. I've always had a company. At OU, I had a business selling inflatable mattresses.
I've been in marketing for 40 years. I do a lot of events, was involved with the BP Riverfest and the Ingenuity Festival early on. I've also posed as a mad professor for an American Greetings card.
What's next?
Got some great projects incubating. Jim Levin and I are putting a bakery together to train homeless men. We're also producing an international festival for One World Day next year in the Cultural Gardens.
I love the Cultural Gardens. A representative of the League of Nations came here for ideas for the League headquarters.
What's it like selling Cleveland to Clevelanders?
If you have 500, 600 contacts, then you know everybody. There's 0.5 degrees of separation. Somebody's always related to somebody you know.
It's a friendly town. You can meet just about anybody. I've met Art Modell and Dick Jacobs and the Dolans. I met the maestro, Franz Welser-Most, in the West Side Market.
What are some of your favorite dishes at favorite restaurants?
I love the french fries at Luxe in Gordon Square. They have great home fries at Grumpy's in Tremont. My favorite fries are at the county fair, right out of the deep fryer. I dine once a week with a client at Don's Lighthouse. I get salmon.
Where do you get your suits?
I'm a Unique Thrift shopper. You can go in there on Lorain and dig and find a Hart Schaffner Marx or a Brooks Brothers.
Where do you exercise?
I ride my mountain bike through the Valley or along the lake at sunset.
Other hobbies?
I'm interested in the paranormal. Cleveland's a hotbed for UFOs. Supposedly there's this UFO off of Eastlake.
Sounds like Cleveland fits you well.
I love Cleveland. I grew up in Valley City and Berea. Lived many years downtown, then Lakewood.
We're in a great location between New York and Chicago. It's an easy town to get around in. You can go 30 minutes and get out in beautiful countryside. You can rock on Saturday and do the symphony on Sunday. You've got wonderful art galleries and culture.
I take Amtrak to New York. I get a roomette with a desk. It's a very urbane way to travel. You can wander around, as opposed to being packed in like cattle.
If people want to give to the Tour, how?
Email me at clough1217@aol.com.
---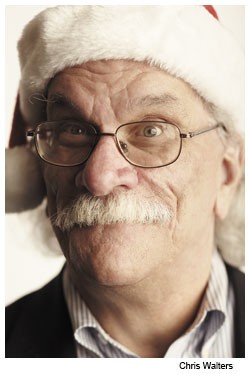 From Cleveland Magazine:
Most Interesting People 2010 - Dick Clough

Ad man & greeting card
character model | 62

Why he's interesting … The CEO of Custom Media Partners, Clough stumbled into a modeling role as a mad professor in a line of American Greetings concept cards that could come out this year at Walmart stores. December marked the 25th anniversary of Clough's nonprofit, the Tour of Good Cheer, which brings toys and clothing to local homeless shelters.

Winds of change … A blustery July wind left his hair standing up on the way to a meeting. His client, working for American Greetings at the time, had been searching for a model with a natural mad scientist look, and Clough was it. "I don't know if it's flattering when someone says you look like a mad scientist. But it is humorous."

Hair raising … It's Clough's real hair in the photos. "I have a lot more respect for ladies. There was so much hair spray; it took 10 washes to get it out."

Good cheer … After his divorce 25 years ago, Clough was looking for something to do for Christmas. He filled his car with plush animals and gave them to Charity Hospital patients. He has continued the tradition, calling it the Tour of Good Cheer.

And then … Clough adopted nine homeless shelters. Every December, he and 25 to 30 people pack a bus with clothing and toys and pass them out over eight hours. Over the years, Clough estimates they have handed out 10,000 to 15,000 gifts from his strictly volunteer nonprofit.

Dick Clough