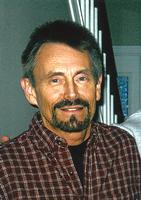 Brian E. Hallin, 75, passed away August 17, 2022. Husband of Marsha Durken Hallin; Father of Brian Jr.; Step-father of Brent Durken (Debbie), Jason Durken (Trina) and Christopher Durken (Jen); Grandfather of 8. In lieu of flowers, the family suggests memorial contributions be made in Brian's name to the Wounded Warrior Fund, https://tinyurl.com/BrianHallinDonation.
Brian will be fondly remembered for his love of country shown through his service in the United States Army in Vietnam and will be sorely missed for his good sense of humor and immense love he had in caring for his wife, Marsha and their son Brian Jr. He also enjoyed rousing political conversations with his longtime friend, Pete, as well as being able to work on, fix and build computers.
Family and friends are invited to gather at Grace Church - Middleburg Heights, 7393 Pearl Rd, Middleburg Heights, OH 44130 to celebrate Brian's life on Wednesday, August 24, 2022 at 11 AM. Interment Ohio Western Reserve National Cemetery.