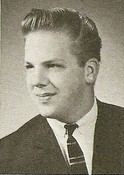 Name: Leopold, Richard C.
Date: Mar 2 1966
Source: Plain Dealer; Cleveland Necrology File, Reel #129.
Notes: Leopold. Richard C. Leopold, beloved son of Edward and Florence (nee Heill), brother of Edward, Susan, Janet and Gary, grandson of Francis Hell, suddenly Feb. 27th, late residence, 6446 Hio Dr., Brook Park. Friends may call at Wm. F. Chambers Funeral Home, 4420 Rocky River Dr. Requiem Mass Wednesday, March 2, St. Mary's Church, Berea, at 9:30 a.m. Interment Holy Cross Cemetery.

According to ancestry.com Dick Leopold he died 02/27/1966.
If you have any information, memories, or thoughts to share, please post a comment.