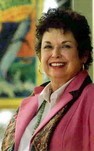 If you have any information, memories, or thoughts to share, please post a comment.
Cause of Death: cancer
Classmate City: Stuart
Classmate State: FL


Monday, June 16, 2008
STUART — As executive director of the Martin County Convention and Visitors Bureau, Terri Monaghan was known for her high energy and creativity. Her idea for the Summer Treasures campaign, which challenges tourists to a scavenger hunt of the county, was brought to fruition even as she privately battled cancer.
"She had the best attitude and was an inspiration to us all," said Jennifer Ferrari, vice chairwoman of the bureau's board of directors and executive director of the Hobe Sound Chamber of Commerce. "She was very passionate about her career."
Ms. Monaghan, 60, died Friday.
"It was a great loss to us," said Gary Guertin, chairman of the bureau's board of directors and general manager of Harborage Yacht Club and Marina. "She was a leader and professional every step of the way."
Guertin called her "a visionary who had the ability to rally the troops" to share in her enthusiasm for the county's tourism and hospitality industry.
An Ohio native and a graduate of Ohio University, Ms. Monaghan began her career conducting consumer marketing studies for the state of Virginia, then moved into media with her own newspaper column and a television show.
After working in Atlanta for Turner Broadcasting System, she launched a public relations career in Stuart. She oversaw the promotion of many of Martin County's prestigious developments, including Sailfish Point, Martin Downs, Monarch Country Club, Ballantrae Golf & Yacht Club and Indian River Plantation.
Ms. Monaghan eventually left the Treasure Coast for New Orleans, where she was corporate communications for Delta Queen Steamboat vice president.
She returned to the area in 2003 to become tourism director of the Martin County Tourist Development Council.
She was appointed executive director of the convention and visitors bureau in 2006.
She is survived by her husband of 26 years, Robert Yamin, and a daughter, Courtney, who attends school in Pennsylvania.