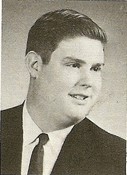 This obituary is on Ancestry.com

Mark J. Sutherland, 59, of Medina, passed away at his residence Sunday, Dec. 24, 2006.

Mark was a member of Weymouth Community Church and his accomplishments were many. Most recently, he was principal of Life Skills Elyria School and previously was director at Myers University-West Side Academic Center. Many organizations he held memberships with and dedicated his attention to were the Montville Board of Zoning Appeals, Medina Sun-rise Rotary Club, where he was a Paul Harris fellow, past assistant governor of Rotary District 6630, nominated district governor Rotary District 6636, past president and director of Medina Rotary, member of Lake-wood Masonic Lodge 601, Ancient Accepted Scottish Rite, Al Koran, MBA Alumni of Baldwin-Wallace College, United Cerebral Palsy of Ohio and past coach and director of Medina Youth Football. Mark, with his family and friends, enjoyed gardening, landscaping, woodworking, fishing, flying and golf.

He is survived by his wife, Judy (nee Watson); sons, Matthew (Jennifer) and Daniel (Kristen), both of Wads-worth, and Timothy (Mandy) of Medina; daughter, Kelly (Erik) Overly of Delaware, Ohio; grandchildren, Ryan and Carli; and brother, Robert of Strongsville.

He was preceded in death by his parents, Robert and Betty (nee Clark).

Service: 10 a.m. Thursday at Carlson Funeral Home & Cremation Services, 3477 Medina Road (corner of state Route 18 and River Styx Road), Medina. Pastor Bob Petruccio will officiate.

Interment: Lakeview Cemetery, Cleveland.

Visiting hours: 2 to 8 p.m. Wednesday at the funeral home.

Donations in Mark's name may be made to the Mark J. Sutherland Scholarship Fund c/o Medina Sun-rise Rotary, P.O. Box 1726, Medina, 44258; or the Weymouth Community Church Building Fund.

If you have any information, memories, or thoughts to share, please post a comment.