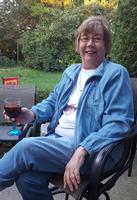 Patricia A. Philips, age 72, of the Whiting section of Manchester Township died on Wednesday, May 1, 2019 at home. Born in Berea, OH, she moved to Mercer County in the mid 1960's, and later lived in North Carolina before settling in 2011.

Patti graduated Berea High School, Berea, Ohio, and continued her education graduating Rider University with a BS in Labor Relations. This assisted her professionally and in all her volunteer work and Community Service projects at her home in NJ and in NC as well.

Mrs. Philips worked as a real estate agent in Mercer County early in her career, and later worked for many years as an Insurance Trainer. She was a proud member of the local chapter of the Daughters of the American Revolution, an avid sailor, and most importantly highly dedicated to her husband and their six grandchildren.

She is survived by her husband Stephen; her daughters, Tracy and Deborah Graves; her step-children, Christine and Curtis Philips; and six grandchildren.
Services were private under the direction of Horizon Funeral and Cremation Services, 1329 Route 37 West, Toms River.